We've been installing solar panels on residential roofs since 2010 and we love to meet new customers and help them with custom solar solutions. We specialize in designing solar panel projects that meet our customer's consumption and budget goals.
The typical process:
1.) We gather 12 months of utility bill history and we build a custom proposal that shows the recommended solar system size, layout, and financial analysis.
2.) We meet with you at your home or building so that we can gather site survey information such as a shade analysis, roof pitch, azimuth, and electrical panel condition.  We present a preliminary solar analysis and we provide solar information including available incentives, equipment warranties, maintenance suggestions, and installation details.
3.) If you decide to move forward with a solar project, we help you apply for financing through a local credit union or we begin the engineering and drafting of your solar plans.
4.) We pull permits, order parts, and install the system. A typical installation takes between 2 and 5 days with a City inspection on the final day. Our dedicated Project Coordinator oversees the entire installation process from start to finish.
5.) Your local utility grants PTO (Permission to Operate) and you are now running your home on the sun!
We love installing solar, but we know that it needs to make economic sense in order to warrant the investment. Therefore, we strive to build a custom solution that offsets electric bills and mitigates against the rising utility rates while costing the same or less than what you are currently paying for electricity from the local utility. In other words, we help you to "re-finance" your monthly electric bill. You spend less each month but you get the satisfaction and benefits of running your home on the sun instead of electricity generated from the burning of fossil fuels. In most cases, payback is between 5 and 10 years and solar shows the most benefit in the latter years of its 25-year life (when utility rates have risen substantially and the system is completely paid). Return on Investment for solar is typically between 10% and 20%
Solar Analysis:
Send us 1 electric bill or preferably 12 months of utility data and we will build a custom solar analysis for your home. The report will show a rendering of your home with solar panels configured on your roof to scale so you will immediately see what it will look to go solar. The report includes a detailed analysis of the recommended systems size, the recommended equipment, and the overall financial costs and benefits.
Example Solar Report: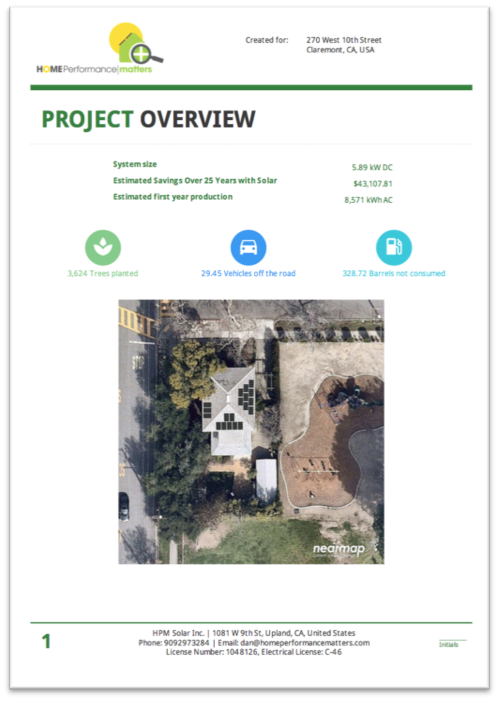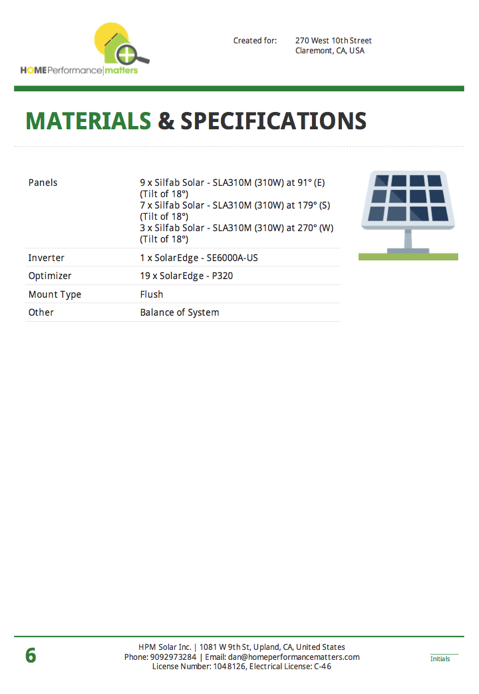 Shade Analysis:
If it looks like trees or other obstacles will shade your home's solar array, we will climb on the roof and conduct a solar shade analysis. We take pride in accurately estimating your solar system's kilowatt-hour production so we carefully examine the site for any shade issues. We will update your solar analysis based on the estimated shadows and annual sun availability.